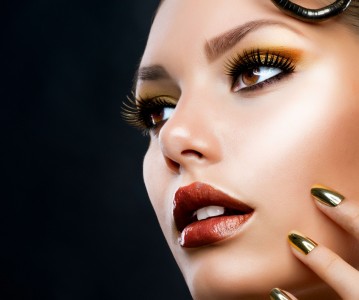 With summer coming to an end, our trends are changing as fast as the leaves on the trees. Pastels are out in terms of day time shadow and are being replaced with orange hues; neon, apricot, mandarin, bronze and peach! In keeping with that color scheme, blush is the go to product this fall. Make sure you use a blush with enough warm peach and rose pigments to make it look like you just got back from a brisk run. Everyone will ask you how you manage to keep your glow looking so fresh. Since orange is going to be your base color for the lids, everything else this fall tends to be a bit more intense in order to add some definition to your face.
Perfect Lips
Lips this fall are going to counter your eyes which will bring the entire look together! Fashion magazine describes the new lipstick trend as 'goth' or 'gothic'. The colors they suggest are; intense reds, burgundies, plums and blacks. Make sure to use a lip liner close in color to your lipstick shade. Follow with thick black lash extensions to create further definition moving into the eye area. To achieve a dramatic eye this fall encompass the eye with a thick, black liner and smudge along the water line to create a worn look. Using a gel liner for this look will bring added intensity allowing for your eyes to become the key feature of your ensemble.
Gotta Have The Hair
Now that we have the makeup taken care of, we will move right into hairstyles.   If you'd like to avoid the fall wind that tends to ruin hair, you will be on the right track going with a low ponytail. Regardless of how you choose to complete the style, whether it is sleek or messy, as long as it is low you are golden. There are many options for your hair! The first being an intense red; this will pair nicely with a red lip and a dark eye. You can also opt for a warmer brown with a slight transition into blonde. If you are more of a short hair worshipper, the following styles are quick and easy to achieve.
Short Hair Styles
Short hair styles or "chic bobs" are excellent for the muggy year we're having. They are easy to maintain and are very low maintenance. You can always change up your long hair with messy French twists, loose waves or pin straight hair. Do you tend to be rushing around with the new school year starting? Place your usual bun with a knot which will allow you to achieve a look that is both messy and kept out of your face. The last hair fashion trend that we can see emerging this fall has to do with the initial way you do your hair; the part!!! Slick and deep side parts are all the rage for this season. Not only does it allow for a little artistic flare but it also allows for that 'grown out' look that is becoming ever so popular.
We're Going Back!
Clothing fashion is turning back the clock…to the 70's!! High waist pants, short skirts, headbands, medium wedges, faux fur, flounce hems, and carwash pleats are great! Pair these with some feminine, sparkly jewellery, a grey suit and chic black boots and you have a found a fall fashion that is perfect for you! Complete your entire look with a pair of leather gloves and everyone will think you are back in the 70s and "out of sight".