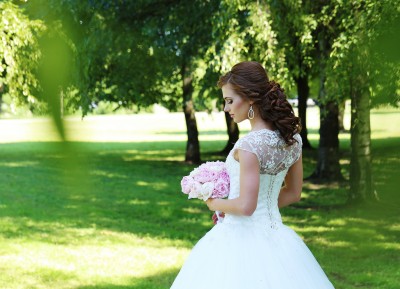 It's that time of year again, wedding season is upon us! Whether you are getting married, standing for someone or simply in attendance to dance the night away these wedding trends can be applied towards anyone!
Out are the bold colors and in are the pastels and nudes. Nude lips can knock your look out of the park if done correctly. Always make sure to lean towards a darker hue in order to avoid it looking like your lips have been erased. Nude color hues to stick to are peach, coral, pink and chocolate. Nude lips can be paired with a subtle smoky eye in order to achieve a night time glam look. If you want the impact to come from a bold lip, make sure you're staying classy with everything else; a light pastel on the eyes with a champagne shimmer applied to the inner corner will guarantee a bright, open eye. Always make sure to apply lipstick with a brush to ensure full and even application. Summer is the time of year to use a light hand in regards to coverage. Try mixing a highlighter with your regular foundation to achieve the sun-kissed, dewy look. To extend this theme to your nails, opt for either a nude manicure with a faded out sparkle effect or a blush pink manicure finished with gold or silver french tips.
Turning over to the bridal hair styles that will help pull your entire look together we have a few tips you should keep in mind. Always make sure to pick a style with your stylist that will compliment your face shape. For a round face shape, we suggest going with a center-parted blowout with soft, loose curls or a half-up, half-down hairstyle which will keep your eyes free from hair and will slim the edges of the face. If your shape compares more to that of an oval you will want your hair to add a touch of length to your face. This can be achieved by adding loose waves or finishing the look with a sleek, polished ponytail. For a square jawline you'd be best to stick with a straight and sleek blowout or opt for a center-parted low ponytail. These two looks will help to soften your angles. And finally, those of you with a heart shaped face will be looking for beachy waves with a side part or a messy bun. This will allow some balance to be created in order to soften your look.
We here at Pino's Salon and Medispa will work to customize your look in order to ensure it's perfect for your big day! Together we will combine hair, makeup and esthetics and provide you with a look that's as unique as you!