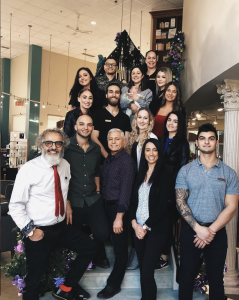 On behalf of our team, I wanted to send out our best wishes in health and safety to all of our clients and community during this time. We understand that there are a lot of over grown hair roots out there and its not because of a purposely done shadow root/balayage. Yikes!
 I am also here on a much better note…there WILL be hope for your hair! We are offering a Colour Touch Up Kits with free delivery! We are also providing free delivery on products orders over $50. Orders under this amount will be charged $10. Simply email us at reception@pinosalon.com or DM us through Instagram or Facebook.
If the pandemic has given you a bit more time around the house, then this is going to be the "rebirth" of your locks! Especially for those of you that use hot tools regularly – this has been minimized.
Before we get into details there are two very important things to remember:
1. DO NOT CUT YOUR OWN HAIR!!!
2. DO NOT BLEACH/LIGHTEN YOUR OWN HAIR!!
I know its very hard for some people to not give those ends a quick little trim when needed or touch up those roots with a box colour from the store but it will not be worth it in the end. We are here for you and we welcome any types of hair/skin questions to help you through this time via email, direct messaging through Instagram or video chat consultations.
Okay, now we can start with the "rebirth" process. Although, this will most likely work best for colour treated blondes (they deal with the most dryness/damage) it will work for all hair types and hair colours.
Supercharged Hair Mask

After you shampoo and rinse (with sulphate free shampoo) apply a looney size amount to medium-thick Intense Hydrating Mask from MOROCCANOIL in your hand and add a pump of the MOROCCANOIL Treatment (Original or Light). Add this through your hair, comb it through thoroughly and leave in for at least 5 min. The mask by itself is a godsend, creamy deep conditioner improving your hair's texture, elasticity, shine and manageability. The Treatment oil added is the "supercharge" your hair will receive. Rich in vitamin E and naturally-occurring antioxidants that help battle free radicals. Use this cocktailing method 1-2 times a week.
Other masks/deep conditioners are applicable to use with the MOROCCANOIL Treatment mixture including:
Absolute Recover Mask – KASHMIR
Restorative Mask — MOROCCANOIL
Hydra Moisturizing Conditioner – KAARAL
Reale Intense Nutrition Conditioner – KAARAL
Email reception@pinosalon.com to request product delivery