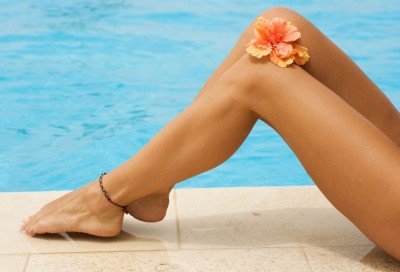 As the cooler weather begins to roll in, is your summer glow starting to fade? James Read is a professional spray tan artist whose philosophy combines skin beautifying ingredients with a touch of self-tan. If you're looking for a safe and effective way to get that sun kissed look in the winter months, James Read and his products are your go to. His technique stems from the want to deliver a normal looking tan which works off of your skins natural color and provides you with the allure and glamour of tanned-looking skin and the benefits of how that makes you feel. He recommends using a technique referred to as the "layering technique". This approach tends to take a longer time to present the desired results due to the fact that you must wait in between applications. Performing the self-tan in this manner however, ensures that you do not over tan and turn darker than you would have hoped for. Building up the tan gradually will leave you looking soft, natural and in the hue of your choice.
James Read tan products are formulated with skin conditioning ingredients (mostly anti-ageing ones) that help to ensure the skin not only looks great but feels great too. Even though purchased at most high-end spas, you can be sure that you are receiving a professional quality tan at home. Listening to James' tips and tricks, especially in regards to layering will help you achieve the tan that you want!
I know what you're thinking: "why would I put in the extra time and effort to give myself a spray tan rather than going into a tanning salon for 10 minutes or spending a fun day out in the sun? There are a vast number of reasons to choose a self-tan over any other kind of tan. They include, but are not limited to: the amount of time you spend in the sun becomes minimal, thus decreasing your chances of developing skin cancer. You can get the exact results that you desire for less cost because you are in charge of the application process and can make sure you are not overusing product or applying product where it isn't overly necessary. Another benefit to self-tanning is that it creates an illusion of the body being in tip top shape because the tan hides the majority of flaws within the skin itself. In the words of James Read, "if you can't tone it, tan it".
Men and women are both embracing the spray tan industry in today's market. The fundamental difference between being a male who tans and a female who tans comes down to the application of the product. For men, sprays, liquids and mousses far exceed creams in terms of end result. This is because they are lighter on the skin and will not stick to any body hair, which in turn offers the male client better and more even coverage. Women seem to have favorable results with all types of application styles, therefore coming down to personal preference for them!
Just because the seasons are changing and the cold weather is coming doesn't mean we need to fade away! Self-tanning is the perfect solution to our winter woes! Stop by Pino's today and pick up your bottle!