Colorescience Treatment Cosmetics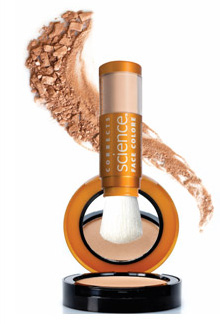 COLORS * PROTECTS * CORRECTS
Bring out your natural beauty the healthy way!
Colorescience high-performance treatment cosmetics were created to remedy and camouflage specific skin concerns and protect skin from the damaging effects of the sun and environment. These dermatologist recommended formulations blend and layer together to achieve an instant and easy flawless face.
Colorescience Micronized Mineral Cosmetics allows you to correct your skin while you beautify. High quality, efficacious ingredients, luxury colours and formulations
These cosmetics are just the right thing to be applied after a Photofacial treatment as they will help assist in the repair process of the skin and reduce the redness that is sometimes associated with treatment.
CORRECTS – Colorescience formulates with anti-microbial and antioxidant ingredients that work on the surface of the skin to CORRECT signs of rosacea, hyperpigmentation, acne and aging.
PROTECTS – Colorescience mineral powder sunscreen will PROTECT your skin easily, effectively and elegantly. Easy to apply and reapply makes sunscreen compliance fun.
COLORES – Colorescience brings you a sophisticated palette of highly pigmented loose and pressed minerals in global and classic colours that give your skin a flawless, radiant look.
* SPF to protect
* Salicylic Acid to correct skin blemishes and discoloration and helps restore and calm appearance of skin
* Broad spectrum UVA and UVB sun protections, Powerful antioxidants and patented peptides – smooth plump and cover fine lines and wrinkles
Sunscreen:
Sunforgettable – The first all powder long lasting protection from the harshest environmental elements.
Brush it or Shake it – Whichever you choose, you'll love it! This breakthrough formula, along with the hippest and most effective applicators under the sun, makesSunforgettable the hottest must have.
With Sunforgettable you don't have to choose fashion over function – you can have both! Available in All Clear, Perfectly Clear and Almost Clear. This full spectrum environmental protection powder is for everybody; women, men and children. No matter what delivery system you choose, achieve an unbelievable look every day. Colorescience's Sunforgettable is the hottest thing under the sun to take you from beauty to the beach.
How to use

Follow direction supplied with product
Use daily
Re-apply often and as needed

Distinctive ingredient

Active Ingredients

12% micronized titanium oxide
12% micronized zinc oxide

Benefits

Instant protection, lose the 20 minute wait!
Will not burn the eyes
Reflects and refracts light on the surface of the skin
Ultimate stability
Dark Under Eye Circles:
My Favorite Eye Cream – Get younger looking eyes instantly. Eye brightener by Colorescience is an antioxidant rich formula that uses Blue Chamomile and Azulene to diminish the appearance of fine lines and puffiness while delivering a brighter, more lifted look to your eye area.
A refreshing eye cream that is second to none. Look healthier and younger. Beta Carotene, Vitamin K and peptides work magic to reduce the appearance of dark circles, as well as moisturize the skin around the eye.
Optical Illusions – The Colore-Corrector pens are created with new patented "colore shift" pigment to give the illusion of light that is back lit and changing colour right before (and on) your very eyes! Quad-peptides improve the appearance of fine lines and puffiness, while chocolate extract reduces the appearance of dark circles. Luminescent light pigments reflect and refract light leaving the eyes looking bright, smooth and rested.
Pep Up Pen – An eye and lip tri-peptide formula in a liquid crystal base. Three peptides to increase the appearance of firmness and decrease the appearance of fine lines.