Hair Colouring
From simple grey root touch ups to brilliant platinum silvers, we take care of our clients' colour needs in a way that suits them best!
With many honours in hair colouring, Pino inspires his team to create the perfect look for you! Since there are many techniques we use to achieve certain colour styles we are sharing with you our Hair Colouring Terms below in order for you to understand our the beautiful world of colouring!
Ombré
Ombré comes from the French word "shadow". Although, the industry defines it as the transition or blending of one colour to the next. Ombré is the "look" and balayage is the technique. In most cases the root colour transitions from dark to light in a solid effect. This style generally works best for brunettes since it is not a subtle blend. The more subtle look would be a sombré (a soft ombré) in which the roots usually a blonde base. Ombré also exists in many other forms of decorative colour (fashion, baking, interior decorating,).
Balayage
Balayage is another french term that means "to sweep". It is a technique we use to apply colour or lightener to the hair using a sweeping/stroking motion to create a very subtle blend towards the lighter colour on the ends. Balayage is much more natural looking because not all the hair is coloured through to your ends in a solid effect like an ombré would. Most of the time the objective is to achieve a sun-kissed highlight look throughout. This also means that it is a longer lasting colour that needs less maintenance.
Foilage
The foilage technique is essentially a balayage application but with foils to achieve a higher blonding affect. When applying a colour with this technique, the colour will have added brilliance with the foils.
Babylights
Babylights are applied using a balayage technique to mimic the subtle, dimensional hair colour seen on children's hair. We also use a the term "money piece" which is when babylights are applied at the front framing the face. There is much less hair strands coloured than traditional highlights and the result is beautiful dimensional blonde on blonde looks!
Hair Painting
This technique is used in a balayage sweeping motion but completely free handed with no sectioning. Performed on a table or flat surface where the hair is laid down on and painted strategically. The hair painting method is used by those who have a special eye or vision on where the highlighted pieces will be seen when the hair is dryed and styled.
$79
Through consultation we pair you with a hair colour in order to suit your skin tone, facial features, and life style. Using special techniques, our colour technicians create beautiful tones. With the use of  ammonia free colour, our experts use many popular techniques. These include balayage, traditional highlighting, shadow rooting, classic blonde root touch ups and many more!
$150
Balayage & ombré are generally booked upon consultation for the nature of this service is very custom to what colouring style the client desires. Please be specific when booking for balayage or ombré since we organize custom booking for this service.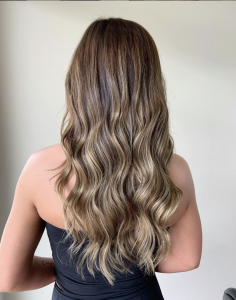 $108
Traditional foil highlights to touch up those roots in the most natural way/add depth and multi-toned looks with lowlights.
$59
Purple shampoo not doing the job for you at home? Come in for a toner! Our hair colourists use colour formulas to blend and even out unwanted hues/tones (brassiness, warmth,…). This will also add more vibrancy and shine to your colour. Keep in mind it is used mostly for hair lighter than a medium brown.
Quoted
upon
consultation
Upon consultation we can help determine a path to correct any past colour issues that you may have encountered. Corrective colouring is a unique process and demands highly skilled colourists with experience in this area of work. We will quote the price upon consultation since we have found most corrections or colour fixes to be unique.
Strategic Colouring can be fun and interesting. Placement of colour can add some exciting and "head turning" looks. When we conduct our consultation we can have a meeting of the "minds" to create the look that you desire.